Emerging Thailand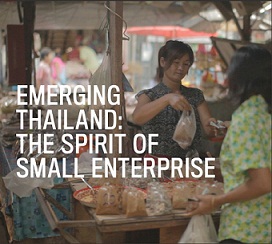 In this Photo:
The DVD showcases a seller in a Chachoengsao province marketplace.
Emerging Thailand: The Spirit of Small Enterprise is a documentary film that takes viewers into the world of Thailand's small businesses and shows how the country's enterprises have diversified, grown and survived amid a rapidly changing marketplace and even led the marketplace itself. The film provides an intimate portrait of Thailand and its people, showcasing the country's diverse landscape, from rice paddies and farms to floating markets and chaotic urban centers. Viewers meet rubber farmers as they collect latex, watch silk growers cultivate their threads and see shrimp farmers netting their crops—all against a backdrop of breathtaking beauty.
Film Synopsis: For more than 15 years, Dr. Robert Townsend has led a team of economists from around the world and local researchers, traversing Thailand to conduct detailed assessments of the country's villages, towns, and urban neighborhoods—and the economies within. They have created a living database of the economic and financial behaviors of thousands of households and small enterprises, many of which were previously unaccounted for. Along the way, they have made extraordinary observations about the nature of emerging markets, what makes entrepreneurs successful, how their communities support them, and the large role they play in national growth and the creation of wealth. This compelling documentary (34 minutes) reveals the emerging spirit and dynamism of the Thai people and shares discoveries that will change your perspective on developing countries worldwide.
A complementary book, Chronicles from the Field (MIT Press, 2013) offers an account of the design and implementation of the Townsend Thai surveys and tell the story of the challenges and rewards that come from a search to understand the process of a country's economic development.